Sabbath service stream weekly on Saturdays at 11 a.m. on YouTube: 
https://www.youtube.com/channel/UC-D1LmgaluUo1wQZ6EUgLLA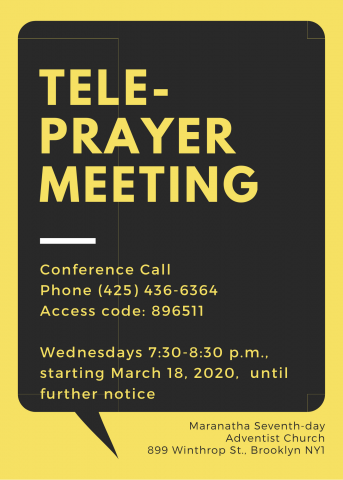 UPDATE (3/18/20): Due to local mandates and advice from the Greater New York Conference, services at Maranatha are canceled until March 31.  However, we will still stream worship services on Sabbath mornings, and weekly Wednesday night prayer meetings will take place via teleconference. More details on how to connect will be shared soon. 
UPDATE (3/13/20): We will be streaming a special Sabbath service, March 14 at 11 a.m. on YouTube. Please join us! Click on the link to subscribe and be ready for our first, virtual worship experience: https://linktr.ee/maranathasdabrooklyn
Welcome to the Maranatha Seventh-day Adventist Church in Brooklyn, N.Y. We are a Christian community and would love to have you join our family. To learn more about what we believe you can visit our About Us page. Please join us for Bible study, worship, and prayer.

Join us this Saturday
Service times:
Sabbath School: 9:15 a.m.
Worship Service: 11:00 a.m.